I almost wrote this blog post on my phone, using the free wi-fi available at the ball park, while Eli practiced baseball and Arlo practiced hockey with a tennis ball (ALL THE SPORTS AT ONCE PLEASE) but people talked to me so I listened to them and then it would have been awkward to pull out the phone again. Plus I have fat, fat thumbs that do not do well with today's smart phones; my old phone had a little punchy-in keyboard and that was great but the touch screen, I am not used to it. It is not used to me. I watch teenagers text on public transit and their thumbs move like hummingbirds and their mistakes autocorrect — or don't — and they don't even stop to read over what they're writing, they just hit send and apologize later.
On Saturday night SA and I went to see the Vancouver Symphony Orchestra perform Mozart's Requiem and on our way home on the skytrain we met up with a few hundred people who had been to see Def Leppard. A lot of them were very young. A significant number were older than me. I know from my high school facebook friends that many people my age also attended the Def Leppard show. Armageddonit.
The Symphony was splendid. I sat listening, thinking of better words to use than awesome. Fantastic. A delight. An older woman sat next to me. She was there with friends, but they had seats together and she was visiting from out of town so she bought a ticket on her own. She was from Montreal and she had never seen the Requiem performed. At the end she stood and applauded and shouted Bravo! and then leaned down to ask me what I'd thought. Wonderful, I said. It was. A symphony is one of those things that you take for granted until you are staring at it, bathing in it, wondering how on earth anyone ever thought of Music Composition or Symphony Orchestras. Seriously. It could be so, so horrible, but it isn't, it's amazing.
Three days earlier I saw Neko Case perform at the Vogue theatre and she was sublime. Her voice is like warm honey. Sometimes it turns and there is a knife blade, but before you can really process that you heard a knife blade, she's back to honey. She has magnificient, red hair and she wore tights with skeleton bones printed on them. If I could switch places with her, Freaky Friday style, I totally would.
*closes eyes* *opens eyes*
Nope, still me.
Yesterday it was ALL THE CELEBRATIONS for Eli's birthday, which is today. Today he is seven. But yesterday he was six and 90/100ths and we had a birthday party at the movie theatre. Three friends fell ill over the weekend with a mysterious feverish virus, and in retrospect that's probably a good thing because six boys in a movie theatre was enough and nine might have killed me. The party was not Pokemon themed, although I did put Pokemon cards in the loot bags; there is a store at a mall that sells 'grab bags' — 20 cards for two dollars, and one of them might be rare. Eli also received a lot of Pokemon cards as gifts, and the sharp intakes of breath around the table when he opened the blah blah blah blah something or other E.X FULL ART! was something to behold. How to shut up a room of 6-7 year olds: put a giant shiny card in front of them. Magic.
Eli also received some money as a gift and when asked what he would do with the money he replied, I will buy more Pokemon. When asked what he would do if everyone he knew stopped playing with Pokemon, he shrugged in his inimitable way, and replied, I will put them away and wait until they're popular again.
Smart for seven. Maybe too smart. Age of reason: achieved.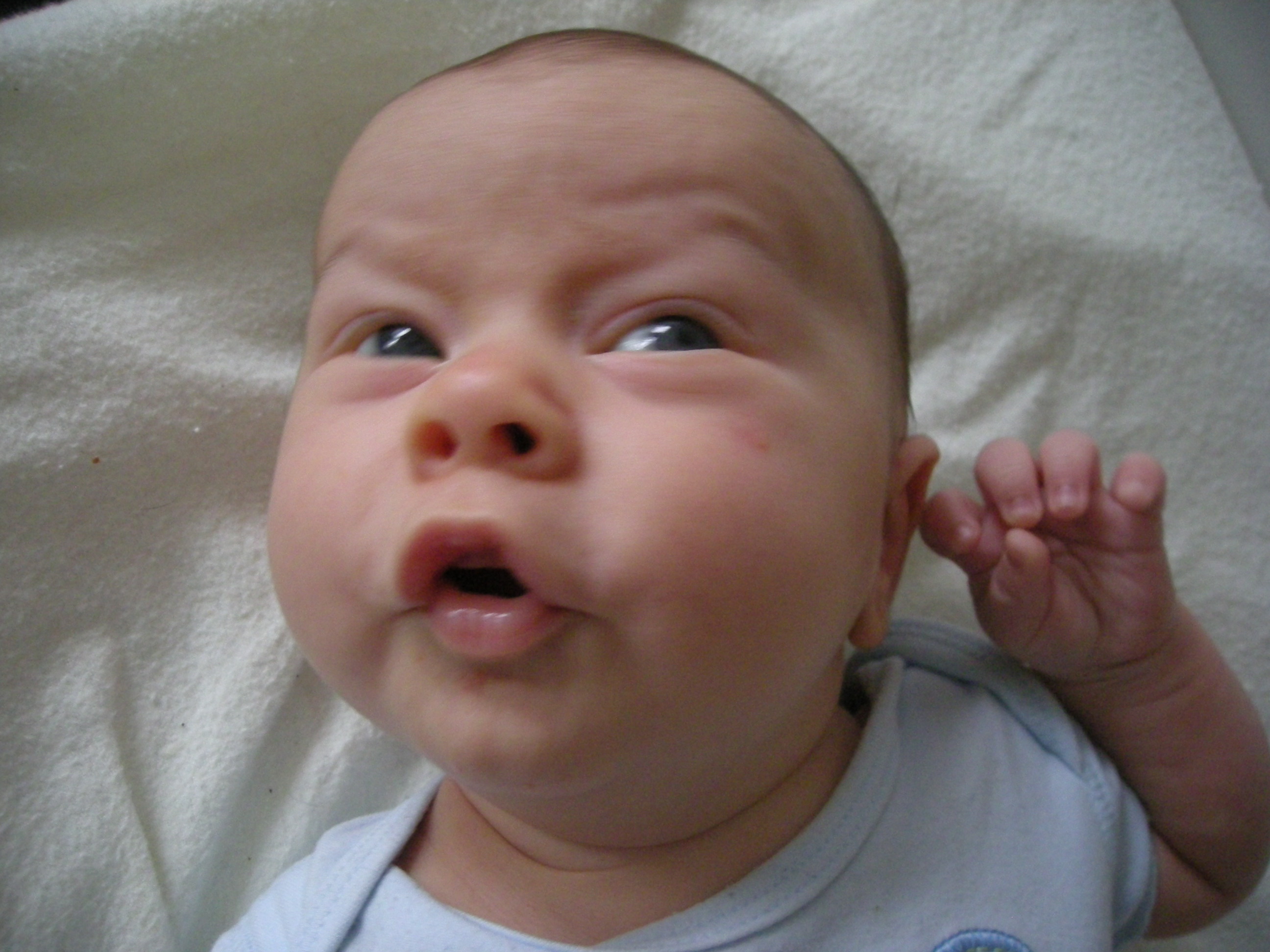 (then-ish)
"One nice picture. Come on."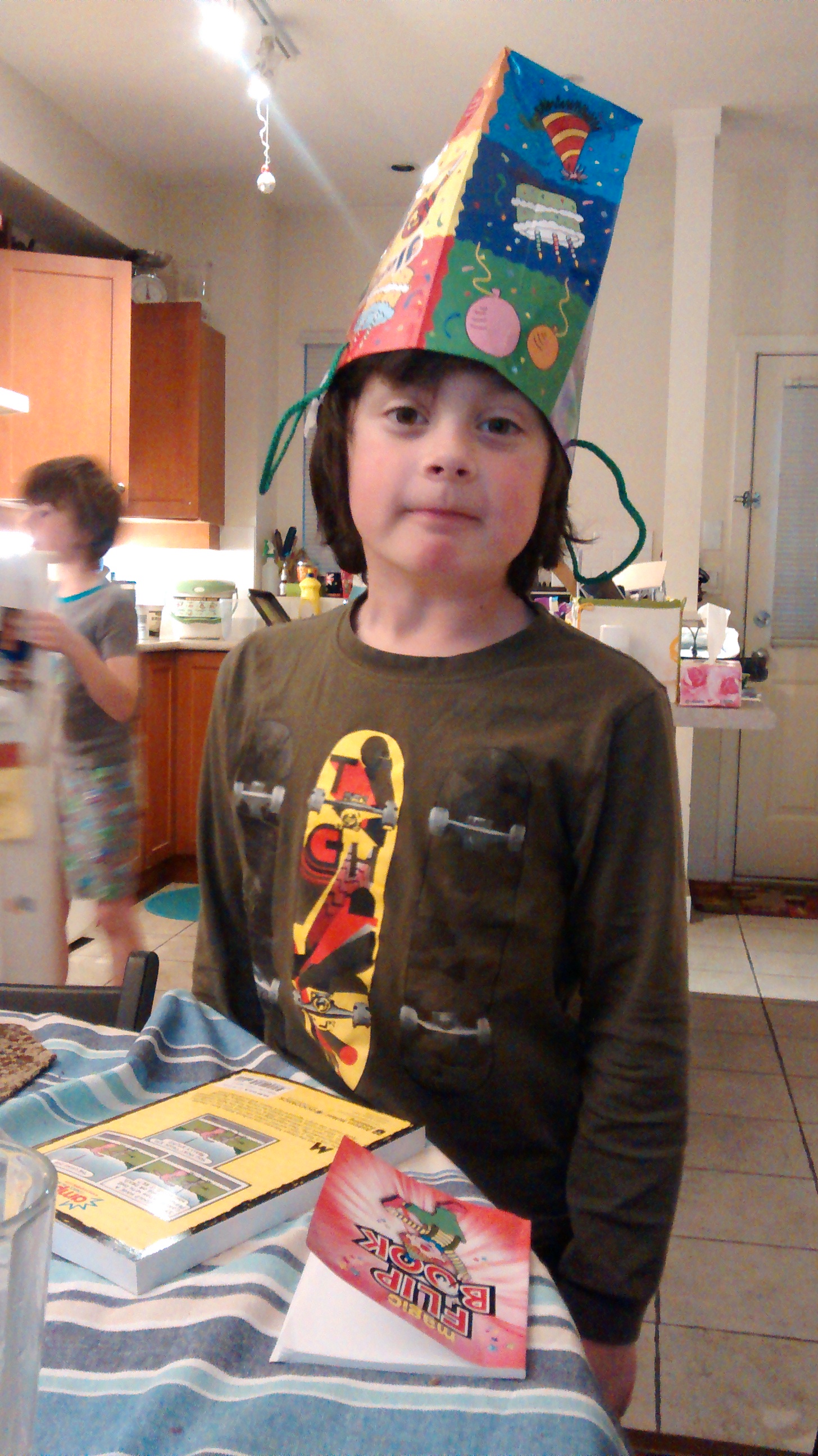 (now-ish)