Woke up and wrote for an hour. Working on a story. For maybe the second time in my life, I have started with a title and have written five pages of story five different ways and none of it seems to be the right fit for the title. Titles are tyranny!
Closed the notebook and decided I need to be more whimsical.
Took the kids to school. Discussed briefly with neighbour kid's dad how neighbour kid going to daycare during his formative years means he is used to walking blindly out into streets without first looking both ways because he was always with a pack. I had not considered this as a cause for neighbour kid's inability to cross the street nor as a possible detrimental side effect of daycare. Still not sure it's a real cause & effect situation. Neighbour kid also takes forty minutes to walk three blocks.
Came home. Was entertained by various municipal election articles and websites. If a candidate uses too many exclamation marks and capital letters, they both please and sadden me. I like to watch kooky people unfold in the world, but I also am sad they have no one to tell them to just use one exclamation mark. And to make their platform more elaborate than just "bring SMILES to the PEOPLE."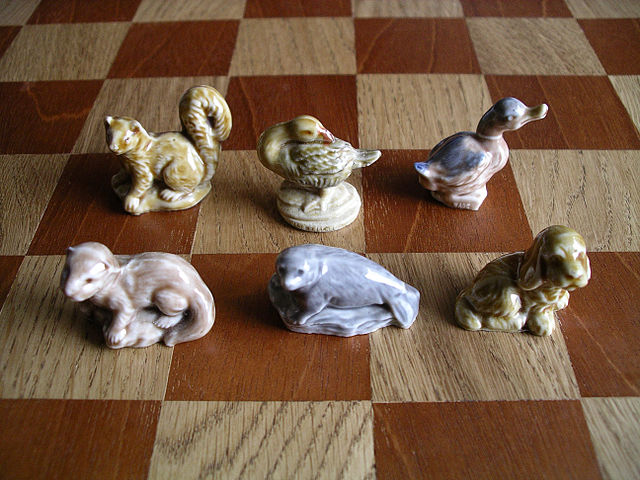 "Wade whimsies 4o06" by Snowmanradio at en.wikipedia – Transferred from en.wikipedia; transferred to Commons by User:Innotata using CommonsHelper.(Original text : Own work). Licensed under CC BY-SA 3.0 via Wikimedia Commons.
Went to the mall to return some pants. Tried on running shoes and nearly bought a pair but couldn't commit. After I bought the pair in the spring that ended up hurting my feet but it was too late to take them back, and buying the two pairs I used to train for the race, but which are worn out, I am shoe-shy. I don't want to buy the wrong shoe. I really want two more pairs of the kind that are worn out but they're done now. Done. Bought some tights instead, and a new Sport Bra because those are easy. No they are. I'm flat chested.
Right! Whimsical! Was starving so I went to the food court at the mall and walked around until I found something that cost less than $5.25, which was all I had in cash. Ended up eating a breakfast combo at Tim Hortons. The hashbrown was hard as a rock. The sandwich was chilly. The tea was hot.
While I was waiting for my food, a woman walked past me and said, "I like your hairdo." I thanked her.
To be more whimsical I sat on the opposite side of the food court, by the windows, in one of the red pleather seats. A collection of old men in sensible shoes and old man hats played cards at a round table. Next to them, a collection of old women ate noodles and chattered. I ate my bad food and sipped my tea and started a sixth version of the story whose title I am trying to do justice. (TYRANNY)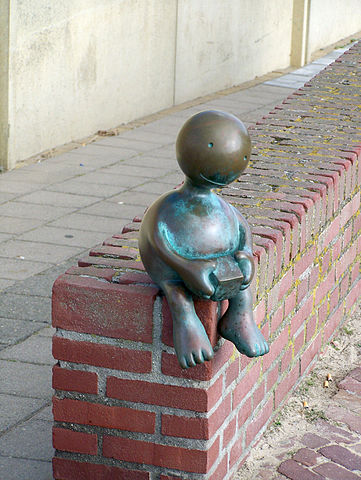 "Curious Figure part2 Tom Otterness Beelden aan Zee Den Haag" by Brbbl – Own work. Licensed under CC BY-SA 3.0 via Wikimedia Commons.
Home to get Saint Aardvark so we could go vote. The municipal election is ten days away but on that day we will be in Seattle having a very small vacation so we voted today. Everyone at the voting place was very friendly and helpful. The woman voting next to me mentioned that neither of the pens worked, then the whatever-you-call-him-guy-who-works-there (invigilator?) asked her if she'd taken the cap off the pen and she said no.
I got a sticker and put it on my notebook, and SA did the same with his sticker on his notebook. We're so alike.
Up the street we wandered to the grocery store where I'd heard we could get flu shots at the pharmacy. As we don't have convenient family docotrs, every year we get our flu shots somewhere new. Two years ago I got mine at Safeway and it hurt like a sonofabitch. Last year I went to London Drugs and it was marvelous, I barely felt a thing. I swore I would never go anywhere else for a flu shot and yet, here I was at Save On Foods, with a small, rushed pharmacist who made the smallest pretence at assessing how I was doing before jabbing that needle into my poor muscle so hard I nearly kicked him in the face.
I thought at first that I just had much bigger muscles than last year, but SA claimed his also hurt like whoa so next year, for real, no grocery store pharmacist flu shots. N.O.
After the flu shot, it was time for the notary! The first notary we went to was..not in the office. He is the only notary who works in the office, it is named after him, yet his office was open and his receptionist was there to tell people he wasn't there, at his office, so that was confusing, but she gave us a list of other notaries in Uptown New Westminster and there were a number of them. In fact one could do a comparison of notaries to hair cuttery establishments in New Westminster and it would probably come up even I think. So we found another notary right across the street and went to see him.
We needed him to notarize the letter that authorizes me to take the children across the border next week because SA won't be with me because he'll already BE in Seattle you see and maybe this is overkill but the kids have different last names and I remember once my Peruvian co-worker trying to take her kids on vacation to Peru without her husband and she nearly missed the plane because she didn't have a letter from her partner saying it was OK to take the three kids to Peru.
I had forgotten we'd explained all this to the kids the other day so I was surprised when I mentioned the notary to Eli on our walk home from school and he said, "Oh to sign the letter proving you're not a kidnapper, right?" Right.
Then back to school to get the kids, then home, then back out to get Arlo from his friend's house, then home, then dinner and perusing the Toys R Us Christmas catalogue where I made the children spit out their dinner with laughter as I pointed to the doll called Baby All Gone and said, "Oh that's the toy where you bring it home and then it disappears!"
Eli made me laugh when he saw the Disney Princess Lego castle and said, "Really? Now, Lego you've gone too far."
Whimsy to close out the day.