Today is Monday. It is also October 20th, which is Eli's half-birthday. He reminded me of this on our walk to school this morning. He also reminded me yesterday. He suggested that something special we could do together would be: he could play with his friend, the neighbour, while I made him a half birthday cake?
He really is the sweetest. He knows I prefer to bake alone.
For a half birthday cake I made a lemon loaf because I like lemons and I couldn't muster the enthusiasm for a full cake with icing and bullshit. I'm getting over a bad cold with sinus involvement and my patience is wire thin. Every twenty minutes I have to either breathe steam or drink hot tea. And two days ago the kettle broke, so we had to get a new kettle but that was just foreshadowing.
I have a recipe for lemon loaf — or several, don't we all? — but I looked online and found Ina Garten's lemon loaf recipe. The recipe yielded two loaves, so I had to cut the recipe in half and isn't that just apropriate. Because it's a half-birthday, you see. Which isn't even real but hey I guess it is now. I just made it real, with cake.
Before I made the cake I had some lunch and before I had lunch I set some chips on fire in the toaster oven and had to pull the tray out, the Katniss-at-the-Capitol-flaming-tray and throw it out our front door onto the stone part of the patio, where the chips turned to char and the flames crackled until I stopped shaking enough to pour a watering can full of water on them. Hisssssssss.
Toaster ovens, man. Saint Aardvark has gone to get another one now because he fears the giant flames might have hurt the element. He might be right. Our last toaster oven, which I believe died this calendar year, had an element that melted in the middle, through no fault of mine.
When I first moved out on my own, back in 1993, someone gave me a toaster oven for a housewarming present and I swear I had that thing until 2005 at least. Its replacement lasted five years, *its* replacement lasted one and now we have killed two in one year. I mean. I'd just get a toaster but we are addicted to frozen hashbrown patty things, Eli and I, and to heat up the whole oven just to do one, or even three, hashbrown patty(s) seems absurd.
Before I set the chips on fire I walked uptown and back to get some exercise that was non-exertive, and to buy some cotton swabs at the drugstore. I went to the new drugstore, the REXALL, which has escalators and really good lime and salt and pepper flavoured peanuts. I took the escalator up to find the vitamins and then scoured each and every aisle looking for cotton swabs.
Have you ever noticed that every drugstore keeps their cotton swabs somewhere different? London Drugs keeps theirs at the end of the hair products aisle. Shoppers Drug Mart keeps theirs in the baby aisle. I think Superstore keeps theirs in the makeup. At Rexall, I checked all the aisles, even found a hairbrush I didn't realize I needed, and then resorted to asking the pharmacist, who didn't know. I ventured down feminine hygiene, and noticed something that was not cotton swabs.
It was called a LadyCare Device and it was on the shelf next to the Diva Cups. I looked at it. It looked like a plastic purple heart, about the size of a pendant. Was it a sex toy? No. Was it a menstrual product? No. It is a magnet that you put in your underwear to control your menopause symptoms. $45.
The cotton swabs were at the end of the baby aisle. I know I went down the baby aisle before but I must not have been paying attention, uninterested as I am in the topic of baby care.
The other day I ate a lot of pasta or something and I got the bloaty stomach that comes from carbs + cheese and Eli patted me on the belly and said, "What a fat belly! Are you making another baby in there?" No. No I am not.
He's a lovely child; articulate, great sense of humour, good hearted, fantastic facial expressions. Six-and-a-half today.
Here's a photo from his first half-birthday, in 2008: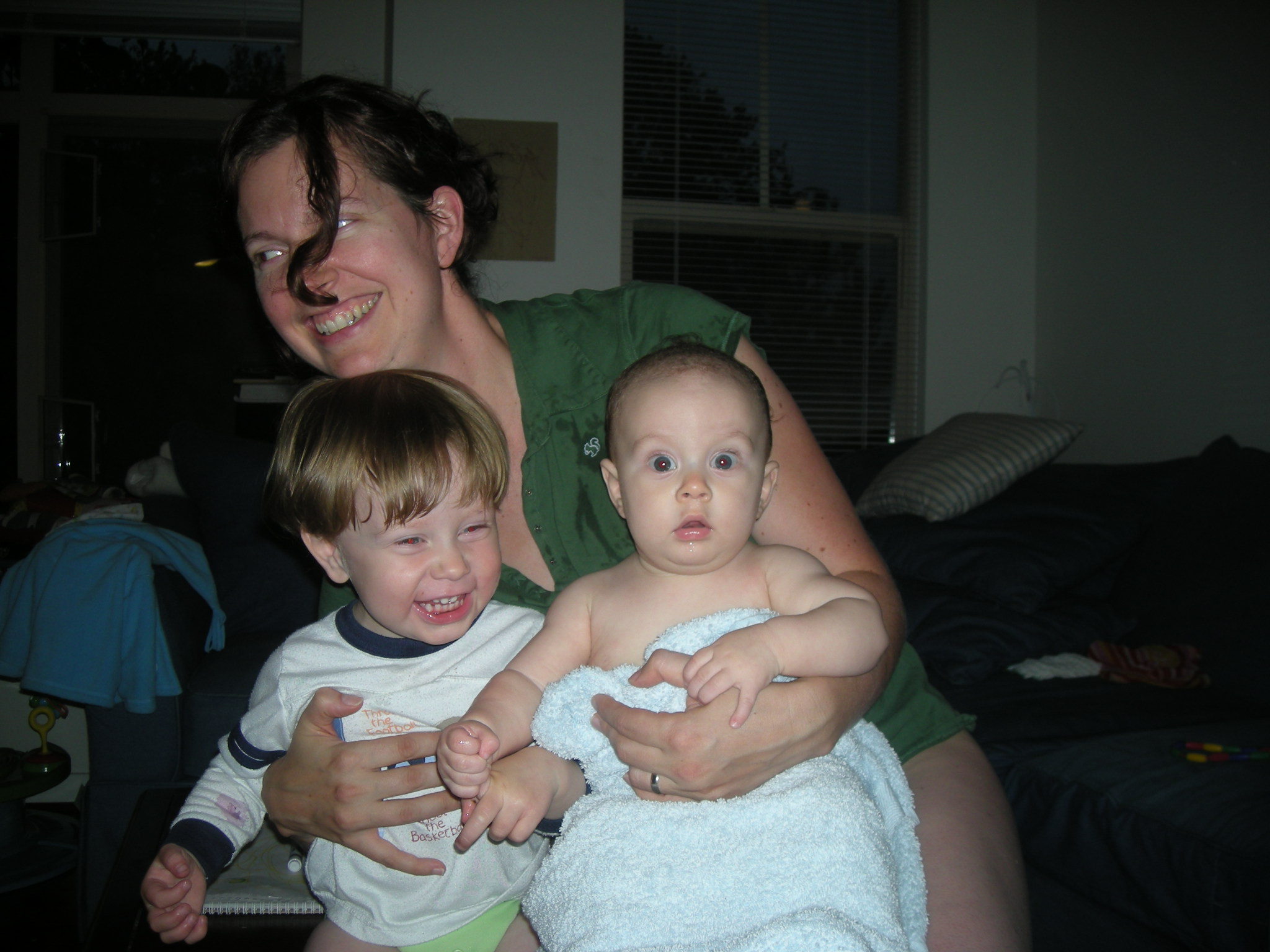 NB: this was one of a series and he has the same expression in each.
Last week I copied a recipe for something from the Internet into our recipe notebook. Eli said, "I'm going to write a recipe too." He thought for a minute and then wrote the following: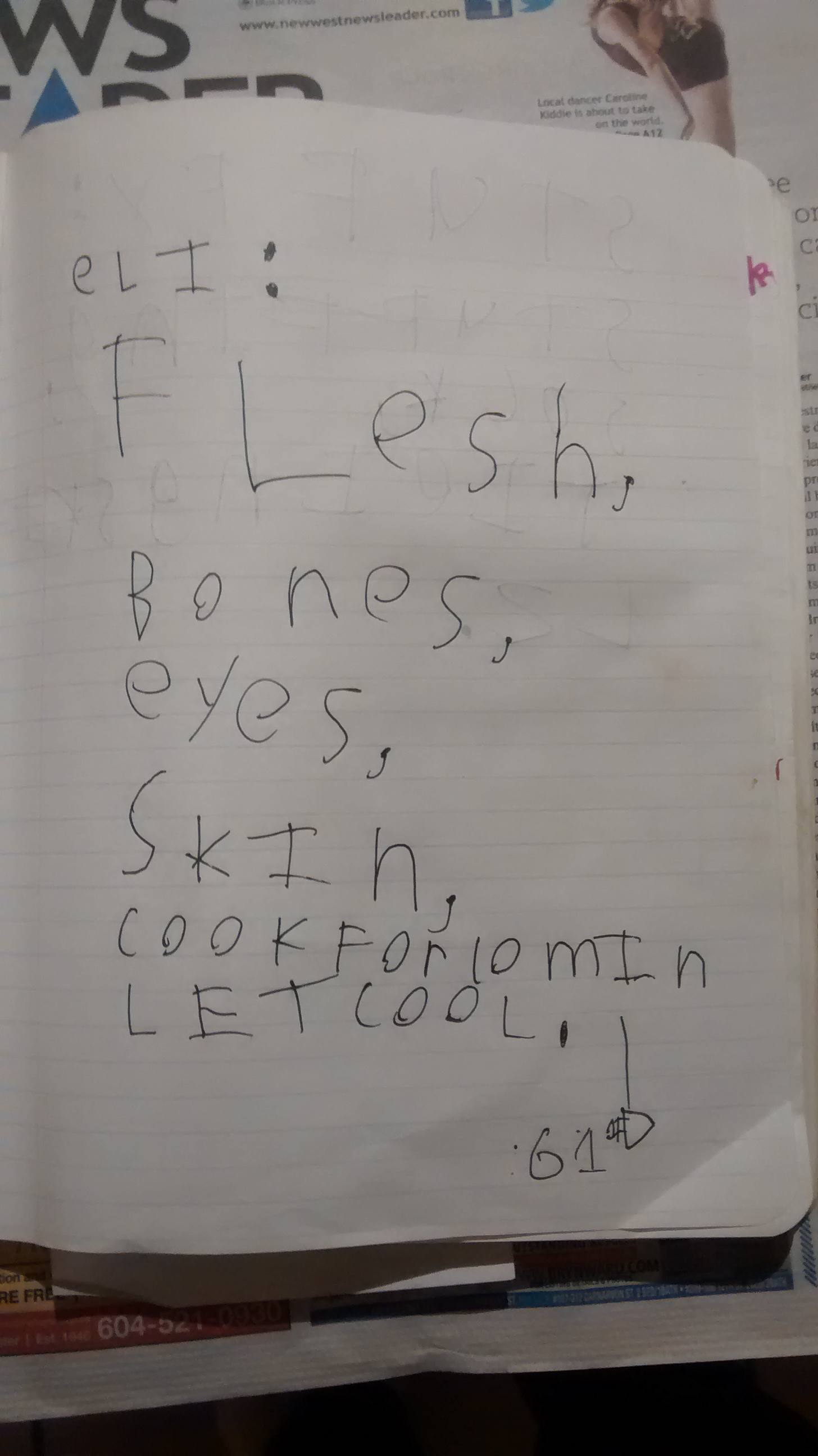 So! If you need to make your own, that's how you do it. (pls note: 61 degrees F.)