Hyper (uber?) local New Westminster website Tenth to the Fraser has come up with a local meme for Wednesdays. Briana explains:
"This is the first in a new weekly series on Tenth to the Fraser. Every Wednesday we'll publish a post that's meant to spark conversation about New Westminster. You can participate by sharing your thoughts in the comments on the blog, Facebook or Twitter, writing a post on your own blog (just link to this post and a link to your post will show up in the comments) or submitting a guest post. To submit an idea for discussion, email info at tenthtothefraser.ca"
I needed a topic today, so I'm going with it! Be sure and check out Briana's memories of New Westminster too.
What were your first impressions of New Westminster and have they changed over time?
I used to take piano lessons. I would do the Royal Conservatory of Music examination every year and the exams closest to us (we lived in Burnaby) were in New Westminster. Usually at Douglas College, I think, which made absolutely no impression on me at all, but one year, my exam was at The Royal Towers Hotel.
The Royal Towers is at the corner of 6th Street and Royal Ave. It is at the top of a hill (and at the bottom of another hill, because this is New Westminster after all) so it seems incredibly tall and important when you are a child of let's say eleven years. I thought it was quite a classy joint, because of the "Royal" in the name and also, it was a hotel! Like, you know, The Hilton!
We walked into the lobby and I swear I remember red wall-to-wall carpeting. The place smelled of stale smoke, which is actually a selling point as I have always loved that smell. The ceilings were high and the lobby chairs and couches were filled with young children nervously flexing their fingers and twiddling their ringlets. The acoustics were such that we could all hear the person who was playing his exam pieces in one of the rooms with the tall, wooden doors. No one looked at anyone else.
When it was my turn I walked into the exam room and went over to the piano. The room was bright with light from the big windows overlooking downtown. I was extra nervous knowing that everyone in the lobby, including the adorable girls with double-ponytails tied with ribbons to match their dresses, could hear me. I felt like I should have dressed better. Being in a Hotel and all.
The first time I walked past the Royal Towers as an adult, shortly after we moved to New West, I both recognized the hotel and didn't. It's a low-budget hotel with a sports bar and off-sales, right off a very busy road that runs through the city. I mean it is across the street from City Hall but a way-station for traveling celebrities it ain't. I would totally have drunk beer there 15 years ago.
Which leads me to my second impression of New Westminster, which I acquired on New Year's Eve, 1993.
Invited to a New Year's Eve party, my roommates and I took the skytrain from East Van allll the wayyyyy to New Westminster and got off at the New Westminster skytrain station. Not New West's best face, that station. It's dark and of course it was NYE so there were a lot of interesting people slouching and stenching about. Then we looked at the piece of paper with the address and realized we basically had to walk 8 blocks straight up towards heaven to get to the house. So we did, up some major road crowded with massive trucks going by at incredible speeds.
The house party was dark and loud and we only knew a few people, including my bitter, bitter ex-boyfriend, who, it turned out, had specifically arranged for me to be invited so that he could trap me on the back porch, wave a bottle of champagne around and yell at me for breaking up with him.
The people who lived there brewed their own beer and made us drink it. And it was awful. Or maybe it wasn't. After all, at the time my favourite beer was Molson Dry.
I understand if you need to take a moment.
We slept there, in New Westminster, in that hostile house, and one of us got her period on the hard, living room floor and then we had to gather ourselves and our big hair and find the skytrain station and ride alll the wayyy back to East Van. And then I think we went to Denny's.
Those two stories are what I thought of when I first started looking at the real estate listings for New Westminster, back in 2006. I had this vague recollection of New West being a far-flung, hilly, economically poor suburb, chock full of deranged people, which explained, to my mind, why the property here was $100K cheaper than anything comparable in Vancouver.
My third impression became the lasting one when we attended our first few open houses in New Westminster. The first house we saw was in Sapperton. It was an adorable – bright red – 800 square foot cottage that wouldn't have contained even a third of our books, so we bid it farewell, but as we walked down the hill to Sapperton Station to head back to Vancouver, I looked up at Alberta St. with its big trees and old homes and thought, wow – I didn't even know this was here.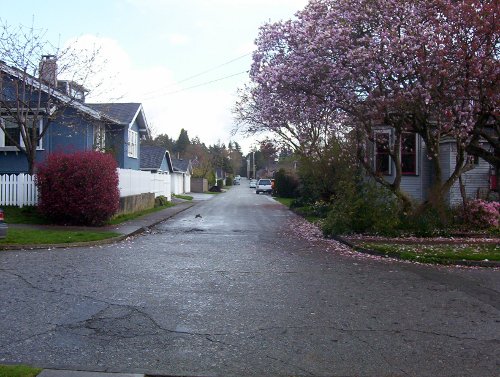 (not Sapperton, but a nice alley nonetheless)
When forming an opinion of a city, perspective is everything. If you like walking, small cities with that 'small town' feel, fabulous repeat characters in your everyday encounters, and especially if you like magnolia trees, New Westminster might suit you just fine. (If you're into shopping malls, though, you'll want to try Burnaby.)