I was on my feet all day. There had been a power outage overnight and all the computers were buggered. The printer drivers were uninstalled. People were panicking. The magic machine that works with a computer that still runs windows 2000 (!!) did not come back all right from its spontaneous reboot, unsurprisingly. It was kind of like a computer stroke. And now that machine slurs a bit on the left hand side, as it were.
I don't fix the computers at work, don't get me wrong. But I sure do use them.
There was also a lot of: people and talking and being in charge and being okay with that but by the end of the day starting to be kind of sick of it. Someone else be in charge, please.
Sidenote: I was thinking today about the special value that I bring to the workplace because I'm a parent: initiative. There are step-up people at work who are not parents, and there are hang-back people at work who are parents, to be sure, but speaking for me only I can say that I am definitely more step-up than hang-back since having kids. I spent six years in charge of children. Who's going to clean that vomit? I am! Who's going to make a plan for the day/week/month? *half-hearted-hoorah* I am! Who has to just hold her nose and do the thing because there are no other adults around and children can't do this particular thing. I am! Why not. This translates well to an office environment. Well, this particular office environment.
Of course we all draw the line at washing peoples' dishes, you know that staple workplace sign "Your mother doesn't work here: clean up your own dishes!" we have one of those at work. But if something not dishes or pest-control needs doing, I'll do it. Even if I hate it. Because it's probably better than vomit.
Then I hopped the train, then bus, then home, got the car, got the kids, bought them Wendy's for dinner (best mom ever!) made them cry because no time to play Plants Vs. Zombies 2 (worst mom ever!) hustled us all off to baseball at 6*, sat on the field for 90 minutes while Arlo alternately did his homework, ran laps around the field, and hassled me about playing Plants Vs. Zombies 2, came home and hustled them into pyjamas, made Eli cry again because I refused to sleep with him (??) and Arlo started referring to himself as a bad kid because he keeps asking me the same thing over and over so I had to explain he's not a bad kid, he just makes bad decisions sometimes, as do we all, and he said, with a cocked brow, well, I AM bad sometimes…and I realized he wants to be a little bit bad, so that's fine I guess I can call him bad. Not a problem. My blond boy with blue eyes who resembles a 70s Wayne Gretsky right now. You so bad.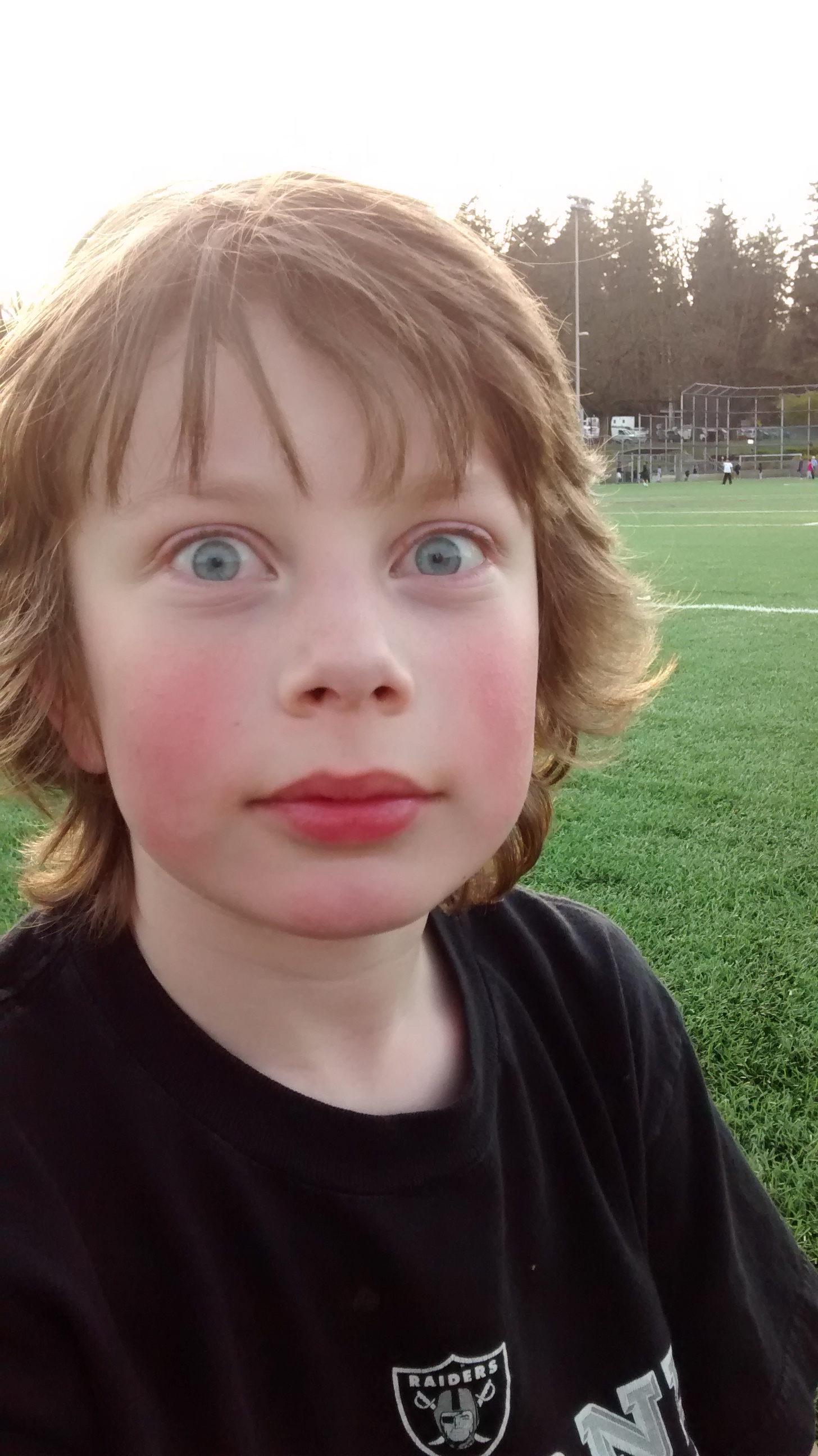 Go to bed, bad kid, I said, and now it's 8:20 and I have some wine and my feet hurt from standing all day, and my butt hurts from sitting on the fake turf field for 90 minutes and you could be forgiven for thinking I'm never happy. Ah but I am.
I said to Arlo when he told me he was a bad kid, what we are doesn't define who we are. Sometimes I'm happy, sometimes I'm sad, sometimes I'm mean, sometimes I'm irritating. Sometimes you're bad, but that doesn't make you a bad person. The only thing I can say with certainty about you is you're human.
All of us mostly happy, a little bit mean, totally imperfect. Everything is okay.
* Working full time with kids in daycare and doing an organized sport that demands two evenings a week is as challenging as I thought it would be.
PS: Go Yankees.