After I wrote yesterday's post I wanted to punch myself in the teeth. There is nothing more irritating than a person who whines about writing and time management. Unless it's a person who does that, like clockwork, three times a year. So, this post is both a part two and not. Same sort of topic, but no grand epiphanies about time wastage because guess what: I already knew I waste time every day.
This morning, Trombone (age 6) and I had an argument.
In the morning, after breakfast, the children are allowed to watch some TV before it's time to go to school. Usually this ends up being about half an hour of TV, sometimes more if they get up earlier. We used to do it this way: we would eat, they would watch TV while I showered & got dressed, then they would get dressed and then we would leave for school. Except it started to be this way: they would watch TV while I showered and got dressed, then they would ignore me and dawdle and not get dressed and we would be late.
Also there would be much sterness of tone and sometimes shouting. All of which would lead to me getting him to the school door, saying goodbye and instantly regretting the entire morning because what if there was an earthquake? What if the school burned down? What if the last thing he remembered of me was my horrible witch face hollering, "GET YOUR BOOOOOTS ON FOR THE LOVE OF SAM." That would be unfortunate.
I had a brilliant idea. I would ask the children to get dressed after breakfast but before the TV time! This way, they would have an incentive to get dressed more quickly AND when the TV went off we would all be ready to go. How brilliant am I, I asked myself, and myself answered, very brilliant!, and so I explained the plan to Trombone and Fresco. At first they were reluctant, then they did it for a few days, and it worked brilliantly.
One day last week, when Trombone reached for the remote control right after breakfast, and I reminded him that he would need to get dressed first, he turned on me. He started sighing and moaning about how unfair it was and how he liked the old way better and WHY did we have to do it this way, WHY? No really, WHY? WHY? WHY?
I explained why. But he didn't really want to know. He just wanted to complain. I told him I understood why he was complaining but I thought the new way was working. He said it wasn't working, that he hated it, that it was the worst way ever.
Meanwhile, Fresco arrived back downstairs, out of breath, completely dressed and ready to watch TV, in the unassuming yet totally calculated way only a younger brother can pull off.
"I like this way," he said brightly.
Trombone shot him the stink eye and stomped upstairs to get dressed.
This morning Trombone started the argument again but since I knew how it was going to end I didn't participate. I left the remote on the table and told them they could watch TV when they were dressed and then went upstairs to write in my morning journal. For ten minutes, Trombone ranted and raved at his brother, the walls, God, and everyone about how unfair how mean, how it was the worst idea ever and someday SHE will KNOW how bad an idea it is, really. Really! Ten minutes. And I was sitting upstairs, half listening to this, thinking: if you had put your pants on five minutes ago you'd be well involved in a Power Rangers episode right now. Dude. Why are you wasting your energy fighting when you could be watching TV?
Aha! I thought. Wait!
If I didn't waste my energy fighting myself (and blogging about it,) I could be writing. And if I spend my time writing, I will have written stuff to show for it.
So I am going to try getting out of my own way. Don't fight it. Just do it. Because if there's an earthquake today, do I want my last image of myself to be me going, "Whyyyyyy do I never have any tiiiiiime?" in my horrid whiny voice? No I do not!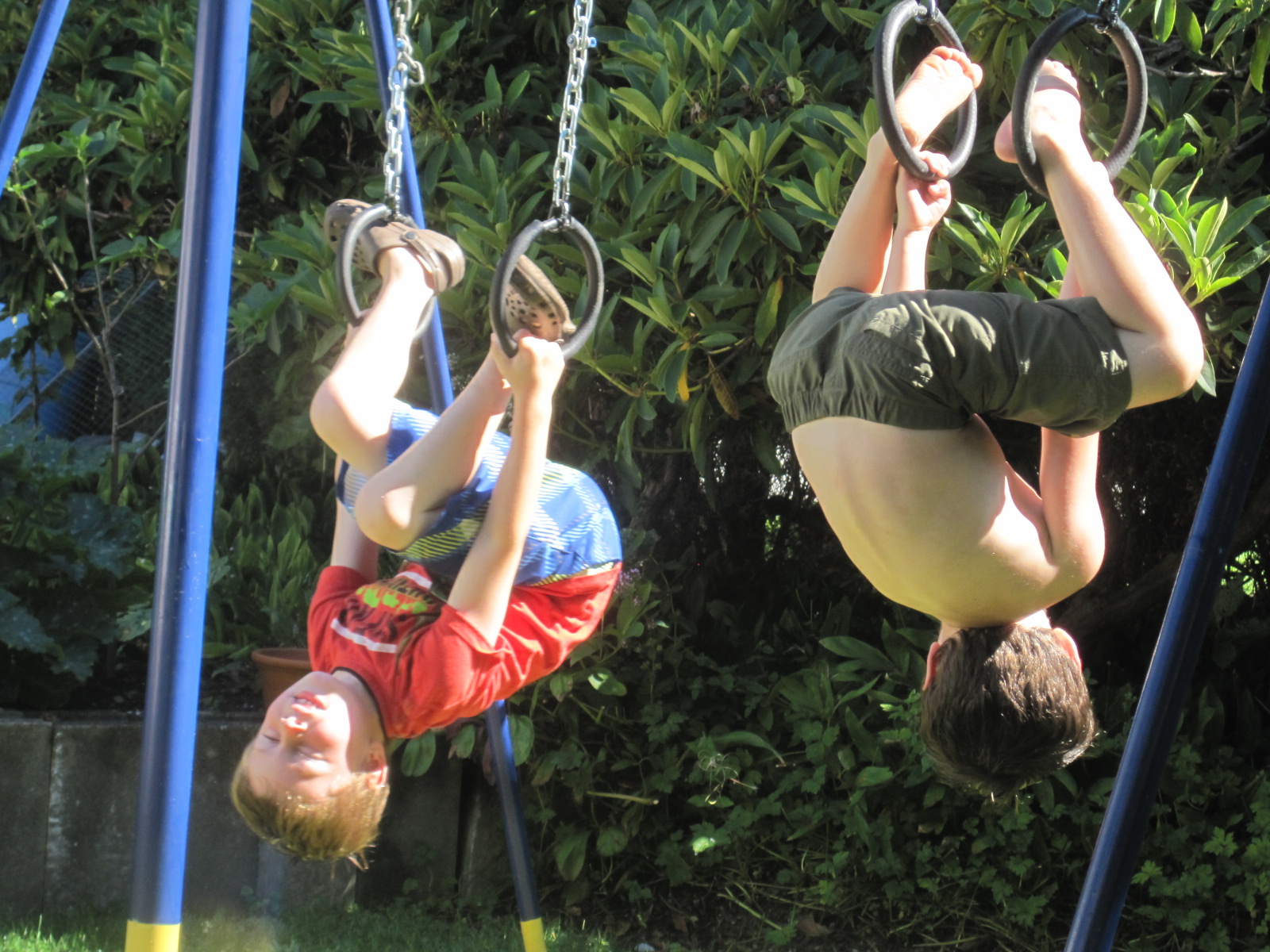 (These children can hang upside down from rings because they didn't give up after the first try.)