A while back I mentioned to Saint Aardvark that we could ask my parents to look after the kids for a couple of days as a joint birthday present to us. He liked the idea. My parents liked the idea. The kids didn't like the idea. Too bad, kids. No vote for you.
We decided to go to Victoria, which is on Vancouver Island and a short ferry ride away.*
* Right? Isn't Victoria a short ferry ride away from Vancouver? Sort of. The city of Victoria is an hour from the Island ferry terminal. And the city of Vancouver is an hour from the Mainland ferry terminal. The ferry crossing takes 90 minutes. So it's a four hour trip from here. Which, if you take public transit at rush hour on a Friday, feels like fourteen hours, but hey we saved $90 in ferry charges. (Yes, $45 one way for a car. Blergh!) Also, BC Ferries frequent riders, who can tell me where to get water on board – water I can put in my own bottle? Not the hot water from the bathroom taps. Thanks.
We stayed in the Rialto hotel, which is where I stayed the last time I was in Victoria. I guess last time I was feeling flush because the spacious, modern apartment-style room I remembered was not what I got this time. This room was the size of a peanut shell. It had weird heating that came out of a creaky flap in the ceiling at totally random times. And the whole hotel was full of static electricity! SA had to touch everything before me because otherwise all the other hotel guests would hear was motherfucker, all the time. If I have recommended the Rialto to you in the past, I wish to rescind that recommendation. It ain't all that.
Victoria Attractions include:
– Miniature World: a museum of small things.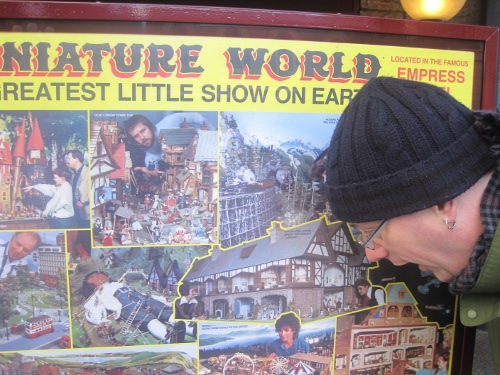 – Wax Museum
– Royal BC Museum
– IMAX theatre
Instead, we went to Russell's New and Used books and spent a very happy two hours browsing. This is something we used to do every weekend, before we had kids. Used bookstore browsing. I had forgotten how wonderful it is. I touched every single autobiography and trade paperback in the store. I bought two Madeleine L'Engle books (non-fiction) and a copy of "Captain Underpants and the Attack of the Talking Toilets." The latter for Trombone. Best $2.99 I ever spent; he is in deep love with his new book.
When we got hungry we walked over a pretty, tourist bridge and along a lovely, empty seaside path (seriously – sunny, cold Saturday morning and we saw only three other people, all with shivering tinydogs) to Spinnakers Gastro Brewpub. Many people have recommended this place to me and holy cats, were they right. It is a beautiful old building, overlooking the water, they make their own fantastic beer and they also have amazing food. It is there we ate the crackers – made in-house, sort of cheesy and herby, sprinkled with hunks of salt the size of a Real Housewife's diamond earrings. The crackers were part of SA's antipasto tray and he died just a little every time he ate one.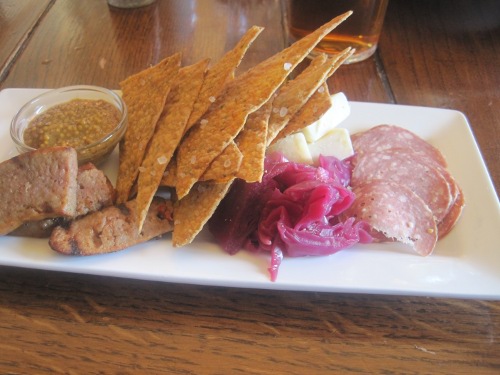 We asked about the crackers and were directed to the front of the pub where a small gift shop was selling chocolate and beer and t-shirts and the woman who was working behind the counter said oh yeah, just a minute, went upstairs to the kitchen, brought back a big aluminum tray of crackers, slid them into a bag and SOLD THEM TO US OH MY GOD.
I also bought some toffee that is out of this world; buttery and exactly the right texture and also it is coated in dark chocolate and possibly pecans.
I also bought a croissant stuffed with red onions, cheddar and jalapenos.
I also slept on their stairs and cried till my eyes were sore because they wouldn't adopt me.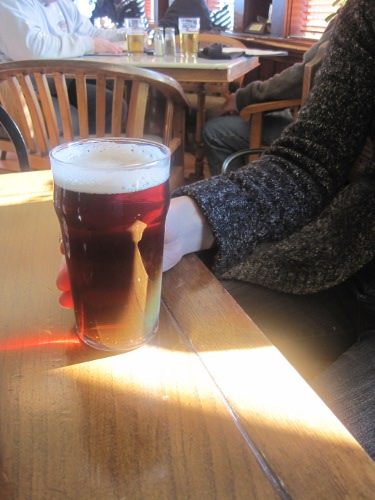 Loaded with beer and brunch, we staggered out into the 1:30 pm sunshine and decided to walk back a different way. We ended up going through the industrial part of town and added a good 30 minutes to our walk so by the time we got back to the hotel we could only lie there and groan. When all you can do is groan, it is so nice to not have anyone jump on you, and that is only one reason our vacation was better than being at home. Unmolested groaning. Wait that doesn't sound right.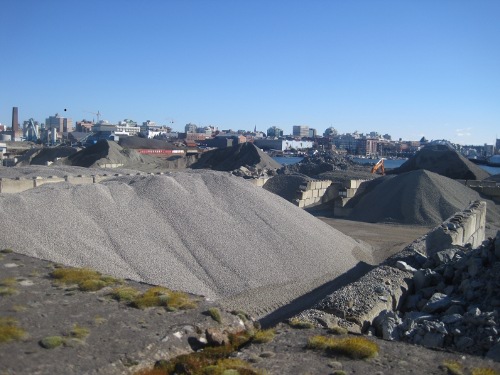 That night we ate at Canoe, a brewpub down by the water. It was all right; trendy and full of people with well-highlighted hair. I ate some delicious tacos and then we went to see a movie in a theatre! (Barney's Version.)(It was very good)
The next morning we ate at a truly inspired little spot called Cabin 12, where the coffee tasted like coffee and the wait-dude brought us water. Water! I love water! So few places bring you water anymore. I know I sound like an old biddy. I ate something called "Willie's Hash" named after Willie Nelson. It was a bowl the size of my head full of eggs, bacon, sausage, cheese, potatoes and salsa. SA ate a breakfast wrap that brought him to tears.
I decided maybe Cabin 12 could adopt me, since Spinnakers blew their chance, but the adorable shempsters running the joint just smiled politely and wished me a good day.
Five years ago I would have read this and said, you loser. That is not a vacation. That is a normal weekend in a west coast city. Up to and including the guy out in the street on Saturday night who was throwing trash cans at the wall and the constantly running toilet. Shades of the West End apartment, man.
But now that I spend every weekend at the playground, I so deeply appreciate those things I used to take for granted. Walking where you want and stopping when you feel like it: good. Eating what you want and having another beer, because you can nap later: good. Sitting in a restaurant long enough to start digesting your food, not having to head for the door while still chewing because your toddler is colouring on the bald head of the guy at the next table: really good. Someday I will want to spend a month in Europe but for now, I don't need much. Sleep + coffee + food + beer + time + no kids = vacation.
Actually, just the no kids = vacation. Everything else is gravy. And crackers.